Brennan Pitard, DVM
Veterinarian, Owner
Dr. Brennan Pitard, a native of El Dorado, has dreamt of becoming a veterinarian from a very young age and is thrilled to be living his dream. He completed his undergraduate work at Southern Arkansas University. Following that, Dr. Pitard received his Doctorate of Veterinary Medicine in 2016 from Louisiana State University School of Veterinary Medicine, in Baton Rouge, LA. Dr. Pitard's primary interests in veterinary practice include dermatology and soft tissue surgery. Outside of work, Dr. Pitard enjoys spending time with his wife, Gabby and their two children Mia and Beau. His hobbies include hunting, fishing, and anything else he can do outside! The Pitards have a chocolate lab and a mountain cur. They also added two cats to the family with the help of our local animal shelter, UCAPS. Dr. Pitard took over the ownership of Ward Veterinary Clinic in late 2019 and enjoys serving the pet owners of his hometown community!
Gabby Pitard
Office Administrator
Gabby graduated from Southern Arkansas University in 2013 with a Bachelor of Science in Nursing. After graduating, she married her high school sweetheart Dr. Pitard and practiced as an RN in Baton Rouge, while he completed veterinary school. After returning to their hometown in 2016, Gabby stayed home to spend time with their two children, Mia and Beau. Once acquiring the practice, she took on the administrative duties of the clinic, while also working part-time as an RN at MCSA here in El Dorado. Gabby now spends her days helping the PAC run smoothly behind the scenes by managing administrative duties, handling everyday workflow and addressing client concerns.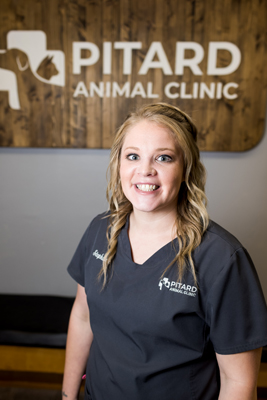 Stephanie Green
Practice Manager
Stephanie has nearly a decade of experience working with clients in the veterinary industry. She is one of the first faces you will see when entering the clinic and will always greet you with a smile! Over the years, Stephanie has worked her way through the clinic from the kennel to grooming, exam room to reception, and has now worked her way up to management. She coordinates our schedule, handles client accounts, and keeps our clinic days running smoothly as an essential team member. Stephanie is the proud mother of three busy children and two Yorkies.
Jose Alanis
Lead Veterinary Assistant
Jose has many skills and has a heart for the welfare of all our patients here at Pitard Animal Clinic. Jose is Dr. Pitard's lead assistant in the surgical suite and exam room. He wears many hats around the clinic and is willing to do any job! Jose is bilingual and helps us with our Spanish-speaking clients.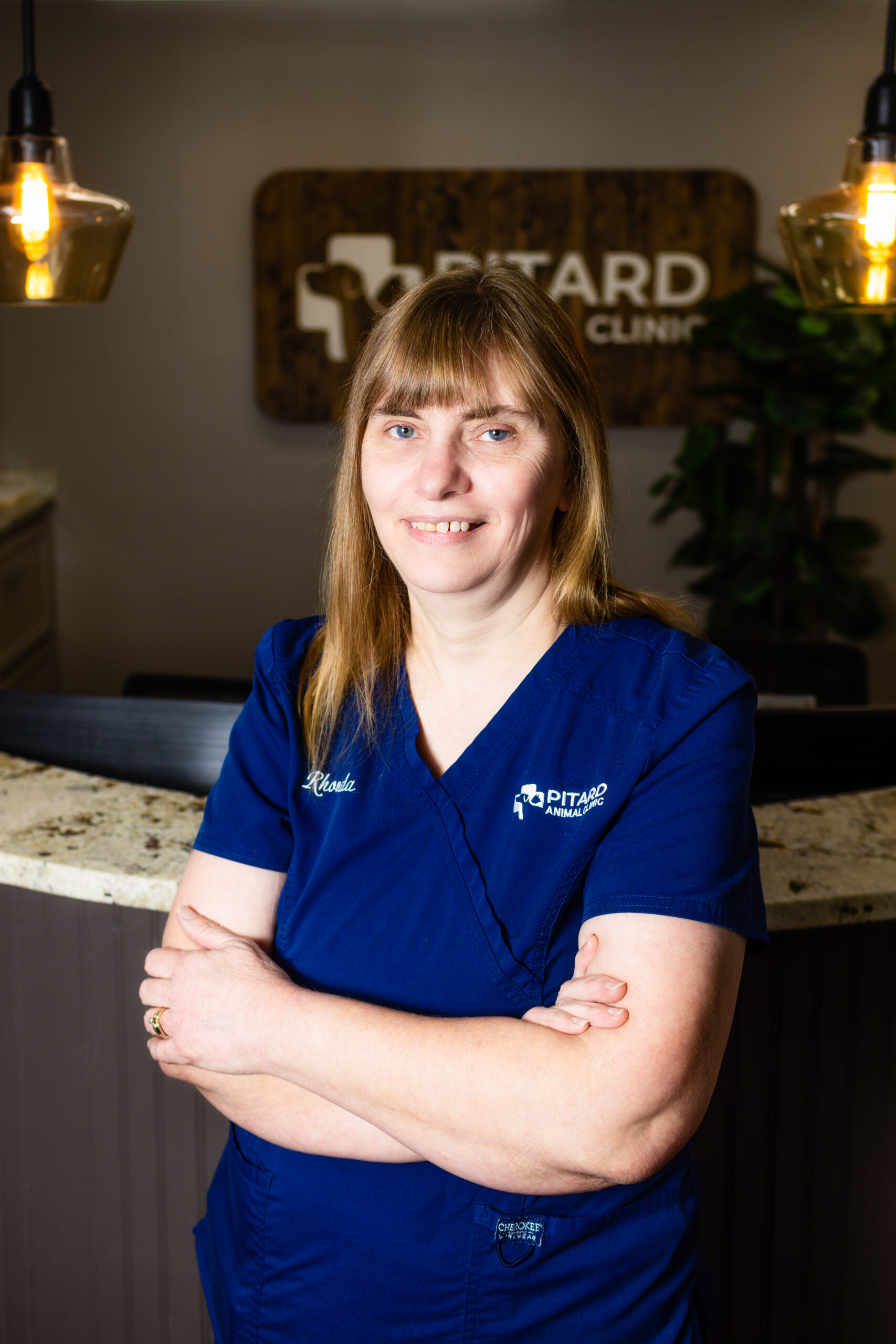 Rhonda Agans
Groomer
Rhonda had been with Ward Veterinary Clinic for over 15 years when she joined the PAC. She is our star groomer! She also spends her day caring for our hospitalized patients and boarding animals. Rhonda is also skilled in nursing injured and ill animals. Pitard Animal Clinic is very fortunate to have such a very caring person with a big heart on staff. Rhonda looks after the interests of her patients before her own. She has been married for 33 years and has two children and one grandchild. She also is the mom of four dogs.
Bailey Taylor Amason
Veterinary Assistant
Bailey first joined the PAC as a veterinary assistant in the summer of 2021 and is continuing to work towards her Doctorate in Veterinary Medicine. She is currently attending Louisiana State University School of Veterinary Medicine, after completing her undergraduate studies at Louisiana Tech University. Bailey is the proud mom of two Cavalier King Charles Spaniels, named Arthur and Louie, and a beautiful rescue cat, Melody. When not studying, Bailey spends her time with her husband, family, and pets.
Payton Stutts
Veterinary Assistant
Payton joined PAC as a veterinary assistant in the summer of 2022. She uses her years of experience in veterinary medicine daily, as she rotates through the exam room assisting Dr. Pitard in working up patient cases. She is known and appreciated around the clinic for her need to keep things organized. Payton is exceptionally compassionate towards her patients and is responsible for monitoring and providing care for our hospitalized animals. She is the proud mother of three high-energy pups and a friendly feline. Outside of work, Payton enjoys spending her weekends enjoying the outdoors with her husband and daughter.
Trey Chisholm
Veterinary Assistant
Trey has quickly become an essential member of the team at PAC after joining the staff in the fall of 2022. He attends school at South Arkansas College while working full-time as a veterinary assistant. You will find Trey just about everywhere around the clinic from cleaning kennels, assisting in the exam room, and changing our well-known random animal facts throughout the week, on the sign outside. Trey hopes to become a licensed Veterinary Technician in the future and is enjoying gaining experience at PAC on the way to reaching his goals.
Eve Craig
Receptionist
Eve is a proud native of south Louisiana and became an Arkansas transplant in the summer of 2022. Prior to joining PAC, Eve spent nearly 16 years working at a veterinary clinic in Lafayette, Louisiana. She has been an irreplaceable addition to our team as she uses her extensive customer service experience in the veterinary field to interact with our clients daily at the front desk. Eve's helpful assistance and advice is always ready, both in person and on the other side of your phone call. Outside of work hours, you can find Eve spending time with her family and pets, traveling, enjoying Cajun food, and always planning her next trip to Disney World.